CBSE Board Class 12 Exams 2021 Live News Updates: The Education Minister Ramesh Pokhriyal will conduct a high-level meeting today with all the states/UT education ministers, secretaries and chairpersons of state examination boards as well as stakeholders to discuss pending Class 12 board exams, entrance examinations for professional courses.
Besides CBSE and CISCE, most state boards have deferred class 12 exams due to the spike in Covid-19 cases. Entrance examinations like JEE, NEET, etc have also postponed.
Read | Key meet on CBSE Class XII today, Board has two options: Test only 'major' subjects, long versus short
The meeting will be chaired by Defence Minister Rajnath Singh. Union Women and Child Development Minister Smriti Irani and Minister for Information and Broadcasting Prakash Javadekar will be in attendance.
A final date of holding the NEET and JEE Main remaining sessions are also expected today. For CBSE, the dates are likely in June, while the mode of exams and assessment will be finalised today.
The education minister had earlier announced that the NEET-UG 2021 examination will be conducted on August 1. However, there have been no updates regarding the application process or admit card release so far. The education minister is expected to discuss the same during today's meeting.
Amid the coronavirus, two sessions of JEE Main 2021, which were scheduled to be conducted in April and May, were postponed until further notice. Aspirants can expect a decision on the engineering entrance exam after today's high-level meeting.
Under the first option, the national board has proposed that examinations for the major subjects be held in the "existing format" and at designated examination centres. Under the second format, which will take only 45 days, the CBSE has proposed that Class 12 students sit for the major subject exams in their own schools (read self-centres), instead of designated centres.
The Central Board of Secondary Education (CBSE) has proposed that it will conduct the Class 12 Board examination only for major subjects. A CBSE student takes a minimum of five and a maximum of six subjects. Of these, usually, four are major subjects.
Besides CBSE, most state boards have deferred class 12 exams due to the surge in Covid-19 cases. Entrance examinations like JEE, NEET, CLAT etc have also postponed. The panel will decide the final decision on board exams and competitive exams.
The meeting will be chaired by Union Defence Minister Rajnath Singh. It will begin at 11:30 am and a decision will be taken after discussion with various ministers including Minister of Education Ramesh Pokhriyal Nishank, former HRD Minister and Minister of Women and Child Development Srmiti Z Irani, and former HRD Minister and currently minister of I&B Prakash Javadekar.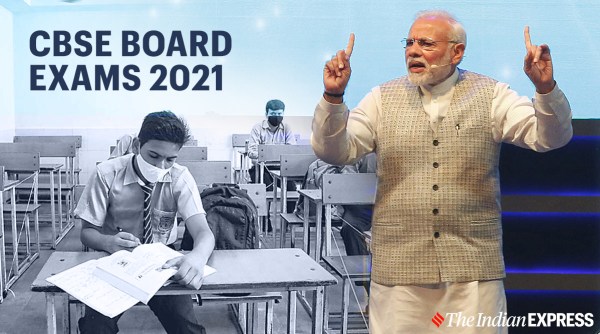 The government is likely to consider postponing the exams. (Graphic by Gargi Singh)
In a letter to states and union territories, the Union education minister has stated that the Department of School Education and Literacy, Ministry of Education, and the CBSE are exploring options regarding the conduct of examinations, keeping in mind the safety and security of the students and the teachers.
CBSE Board Class 12 Exams 2021 Live Updates: Decision on boards and entrance exams likely today