"CBSE board examinations should be conducted as it plays a vital role in students' life. However, this can't happen amid the current situation. But a tentative date should be announced. There is also an option of online examination," Bihar Education Minister Vijay Kumar Chaudhary told ANI.
"The current update extends reassurance to the students as authorities clarify their stance on conducting the examinations and not cancelling them. Further to the announcement, we await detailed directives that will clarify the location, duration and format of the examination. As International universities operate on standard timelines, owing to delayed examinations in India, interested students are concerned about the admission process" said Rajiv Bansal, Director-Operations, Global Indian International School (GIIS), India.
Several states such as Kerala, Assam, Delhi, Maharashtra, Madhya Pradesh, Haryana and Meghalaya have urged the Central government to vaccinate teachers and students on priority to ensure their safety during their time at the test centre.
Haryana state government and state board (BSEH) to conduct the class 12 state board examination in the respective schools of the class 12 students. There will be a provision of re-examination for students suffering from COVID-19 during the exam schedule. The dates for the re-examination will be notified later. Read more.
"In view of the prevailing situation, novel modes of conducting the pending exams like open book examinations, remote examinations using registered posts and exams for major subjects can be explored for conducting exams with physical distancing in coming July- August. A number of state governments are already adopting similar creative approaches," ABVP writes to Education Ministry.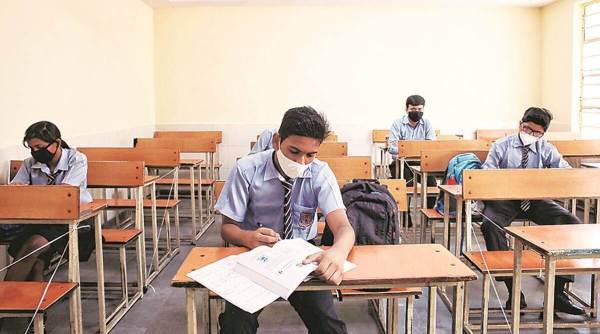 CBSE Date sheet will be released 15 days prior to exams. (Representational image)
Under the first option, the national board has suggested that examinations for 19 major subjects be held in the "existing format" and at designated examination centres — and marks for minor subjects be calculated on performance in the major subjects.
Under the second format, which will take only 45 days to wind up, the CBSE has proposed that Class 12 students sit for the major subject exams in their own schools (read self-centres), instead of designated centres. Apart from the shortened duration of the examination, a Class 12 student will appear for one language and three elective (read major) subjects only.
CBSE Class 12 Board Exams 2021 Live Updates: States, UTs to share suggestions today