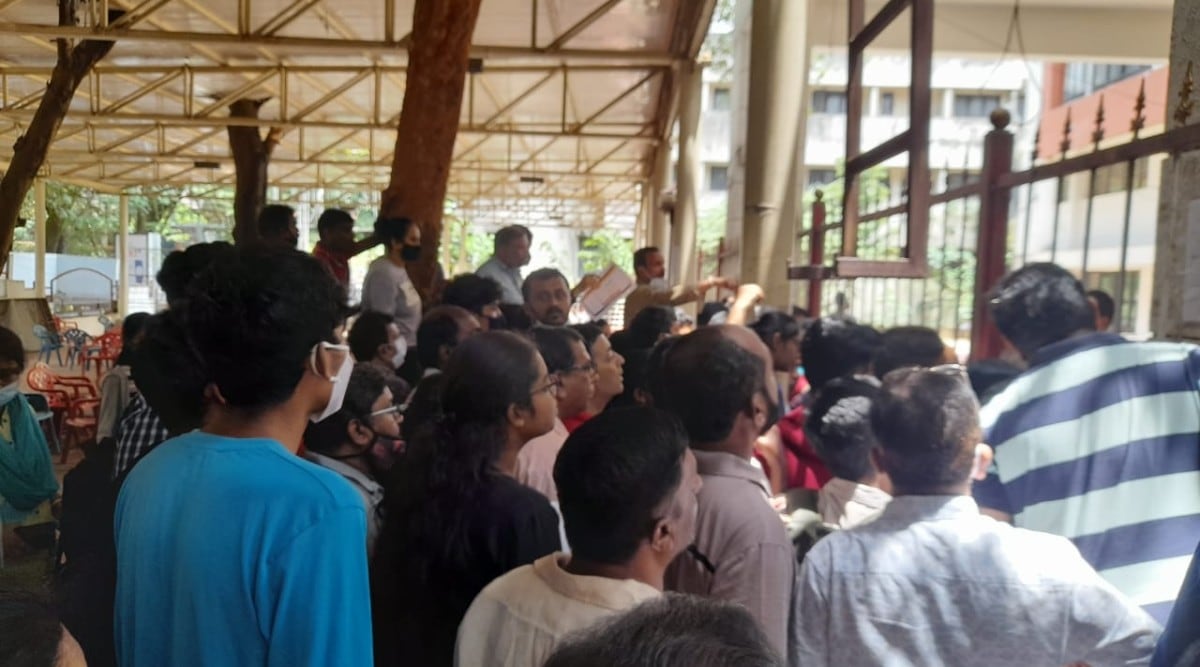 KCET 2022: Several students and parents gathered at Karnataka Education Authority KEA) office Saturday expressing anger against the authorities for technical glitches hitting the KEA portal. Parents and students complained that the CET ranks and PUC/CBSE results are not reflected in the report card.
Parents complained that the CET rankings of PU repeater students (Covid -19 batch, 2021) should have been based on 50 per cent PUC results and 50 per cent CET as promised by the KEA. However, the rankings have been released only based on CET results which actually has resulted in low rankings for many of these students
Poornima S, mother of CET candidate Sinchan KN who is a PUC repeater said "My son has secured 11,408 ranks in CET last year and this year he has secured 118535 rank because the PUC results were not considered. My son has already gone into depression after this confusion. The education department is playing with the future of the Students."
Chetan Gowda a PUC repeater who appeared for CET this year as a back up option for NEET scored 77 marks in CET with a ranking of 19,700 last year. However this year with a score of 103 in CET, he has secured a ranking of 66,223. " The reason I secured low rankings despite a high score in CET is that the KEA did not consider PUC marks during the evaluation. I thought if I don't make the cut in NEET, I could opt for computer science engineering through CET ranking. But this unfair ranking has literally closed the doors for me."
Subscriber Only Stories
One of the parents said "If the high court has allowed OIC students to write the examination why is there a problem to release their rankings. We have spent double the amount in fees than other students and such negligence belittles our child's efforts."
The KCET verification process is scheduled to begin on August 5. But parents of students who are repeaters have decided to move High Court seeking a stay order on the entire KCET verification process. "With absolutely unfair rankings for CET candidates who are repeaters, we are not ready to accept these false rankings. We have decided to move High Court seeking a stay order on the entire verification process that will begin from August 5," said Girish Kulkarni, a parent.
Ramya S, Executive Director of KEA said "We have not made assurances that PUC marks will be considered for CET rankings as far as PUC repeaters are concerned. We will consider only the CET marks. If there are cases where PUC marks are considered, we will look into."
Talking about the ranks of non-repeaters, the KEA official said, "Rankings will not be shown if the students' registration number is entered (11 digits) . The user has to enter the student's PU number (6 digits) only then the rankings will be shown. This is the case for both state and CBSE students. If both do not work, we will send a fresh link to the candidate in the evening where he/she had to re-upload the class 12 marks. The rankings will then be released in the next few days."
The Karnataka Examinations Authority (KEA) today released the result for the Common Entrance Test (KCET) 2022. A total of 2,16,559 candidates had applied out of which 2,10,829 candidates appeared for the test. A total of 1,71,656 students are eligible for engineering, 1,74,568 students for B Pharma and 1,39,968 for BSC (Agriculture).
KCET 2022 result: KEA marks repeater students only on CET score; parents stage protest